Trends
Closer to the nature - stone in your bathroom
Inspiration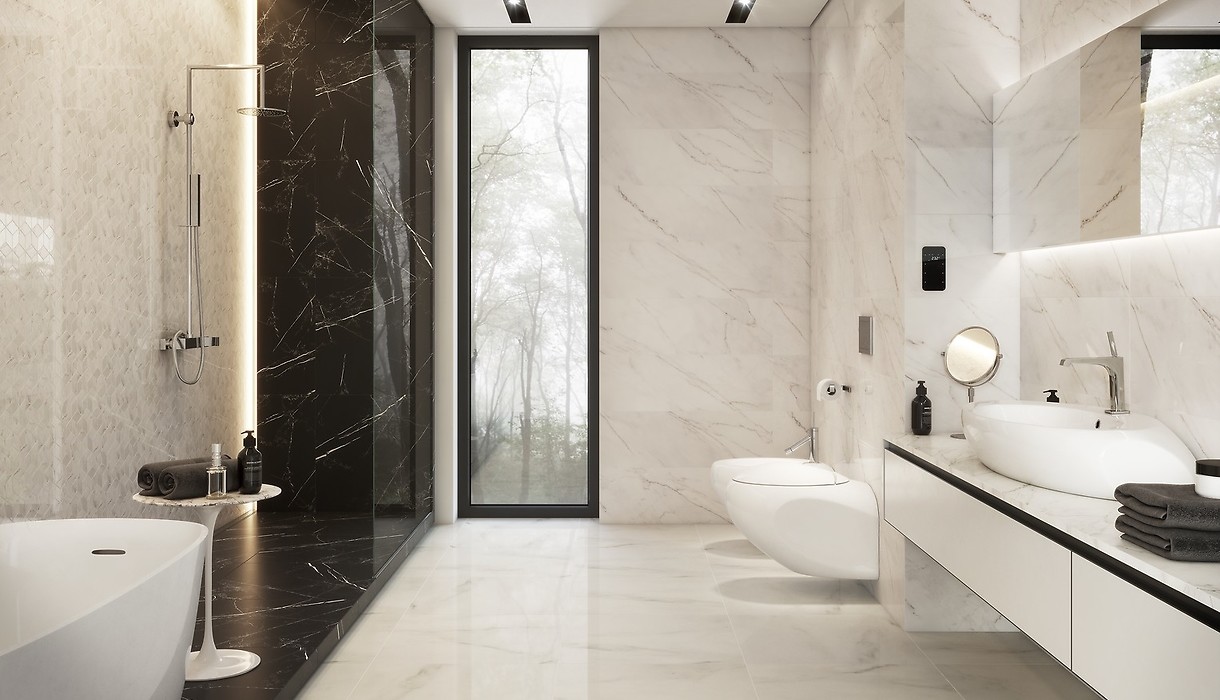 Ceramic tiles based on stone patterns can lend your private space a natural feel. One of the current trends in interior design emphasises the use of materials which mimic what can be found in nature. The beauty of marble, travertine, sandstone and limestone has been known for ages, and it has been adapted to the ever-changing style trends.
Stone-inspired bathroom tiles can be equally as beautiful as the real thing, which has a long history of being used to decorate the walls and floors of palaces and luxury residences. The natural patterns of stone, especially those of marble and travertine, are becoming more and more popular in our homes as well – both inside and on terraces or balconies. We need not limit ourselves to the classics – if used wisely, stone can complement interiors in various styles, even those with a very modern aesthetic.
Bathroom tiles: beautiful and functional
Tiles which mimic natural stone are practical and durable, and some are also resistant to weather conditions like frost – such tiles are included in the Willow Sky and Donar gres tile collections. Gres tiles are significantly less expensive than marble, travertine or granite. They require no waterproofing, are much easier to clean, and are much more durable and resistant. This kind of tile can be laid in every room of your house or apartment, lending it a coherent look. Another great advantage is their weight, which is significantly lighter than stone, allowing them to be laid quickly and easily.
Like marble and travertine
The broad range of structures, shades and sizes of tiles inspired by stone gives you nearly unrestricted arrangement possibilities, as well as allowing you to create compositions subscribing to any style. You can choose from tiles that mimic delicate limestone and travertine, expressive granite, noble marble and warm sandstone.
Many of our newest collections give you this freedom, including: Sahara Desert, Light Marquina, Carrara Pulpis and Soft Marble. Each of those collection perfectly mimics the natural beauty of stone thanks to their use of unique graphics, diverse colours and tonal nuances.
Minimal and vintage-style stone patterns
Tiles inspired by stone such as travertine, sandstone and marble have, until recently, been associated with the conservative classical style. Nowadays, thanks to their ascetic patterns and large sizes, they are a perfect fit for designer interiors.
If a minimalist or even industrial apartment is what you are looking for, choose discreet, cold shades of grey. The Nerthus collection, available in greys of various shades, is great in loft-style interiors. Carrara Pulpis tiles, on the other hand, mimicking marble, allow you to build a minimalist, luxurious atmosphere. The marble pattern also constitutes a great base for vintage-style interiors – tiles from the Marble Charm collection look great combined with 70s-style furniture. Bathroom tiles influenced by warm sandstone, like the Sahara Desert collection, are perfect for both traditional and neutral, timeless, contemporary-style interiors. The subdued look of those collections can also serve as a backdrop for bolder arrangements. They look great combined with trendy art déco-style furniture and accessories.
Fidelity plus modernity
Tiles inspired by stone do not always have to be perfect replicas of the original. For example, some of the tiles belonging to the Simple Stone collection come with a delicate mesh or chequered motif over the stone pattern. Playing with structure can also bring great visual results – Classic Travertine tiles look especially beautiful with their long, structured stripes, lending their surface a modern look. Other collections which offer an interesting spin on traditional structures include Soft Marble, Honey Stone and Donar. This approach to natural patterns gives you more freedom when designing, enabling you to add variety to and modernise your chosen style, adding more depth to the bathroom.
Tiles mimicking marble, travertine, limestone and other types of stone can be used to great effect if you want to connect all rooms. They can form a theme present in every room of the house, from the bathroom to the living room, kitchen and hall.